This Boundary Will Not Bind Us: Night Gem, Book 1 by Erica Xenne
Genre: Fantasy
What is the 1st Chapter Newsletter?
We send the first chapter of a different book straight to your inbox every week, for free.
This week's chapter:
Title: This Boundary Will Not Bind Us: Night Gem, Book 1
Author: Erica Xenne
Genre: Fantasy
Prologue
1318 MID-WINTER
The girl was fast asleep, yet far from peaceful. Her chest heaved with each breath. Vaye watched the tiny body expand and contract as the child fought for air.
     "Ahem." A crisp voice reverberated against the walls of the underground shelter. "Vaye, the potion."
     Two prominent commune leaders hovered gravely and uneasily, waiting for Vaye to perform her duty. The elected Renstrom, Nurin, set his eyes firmly upon her. He gestured toward the little girl and intoned, "It is time."
     Vaye reached into her satchel for the deathly fluid. As her fingers touched the vial, a deafening crash of thunder penetrated the air, shaking the small room. The blast triggered an ancient memory of another young girl racing toward freedom when an arrow found her. The savages paid dearly, but Nóssië could not be saved.
     Vaye forced the painful images from her mind, collected herself and returned to the present. Five newly arrived children lay across the long marble table, slumbering within the alchemy of Vaye's soporific herbs. The smallest had a gash across her stomach that boded imminent death, but she gasped and shook, clinging desperately to life. Shadows danced across her ivory skin in the torchlight as the flame swelled and retracted in exquisite synchrony with each breath, attending and obeying the rhythm of the child's fragile body.
     The men became impatient with Vaye's delay. In their preoccupation with procedure and protocol, neither noticed the synergy between the flame and the girl's breathing, much less grasped its implications. Vaye understood this was not coincidence, nor was the storm. She knew much more than she would reveal and said simply, "The child is strong."
     Vaye returned the tiny vial to her bag. Nurin exchanged a look with Dinad, the ancient and august Justinar of Law.
     "Pardon my intrusion," Dinad pontificated as he stroked his long grey beard, "but this girl is wasted and frail."
     Vaye was respectful, but unwavering. "She is gravely injured, yet her breathing is sound. She will heal."
     Nurin furrowed his brow. "The child is all but dead. Allow her to pass in peace."
     A drenching, unrelenting rain pounded against the compound's ancient earthen roof. Vaye positioned herself between the two men and the girl, touched the delicate body and felt a rapid pulse. There wasn't much time. To end the discussion, she intensified, "Please let me do my work."
     "Blast!" Dinad interjected. "What have we gotten ourselves into? First the slave-boy and now this?"
     Nurin aimed his chin in the air to reclaim authority and inquired, "What of the slave?"
     Vaye turned to the vault. Even the giant metal door could not shroud the powerful presence just beyond. Solemnly, she relinquished, "He resisted the procedure."
     "Then use your potion," Dinad grumbled. "His mind is too developed, and he's too old to integrate. Be done with it."
     Ignoring Dinad, the Renstrom turned to Vaye. "Continue your work on the slave when you finish with the others," he commanded. "If the girl does survive, she must never learn who she is."
Part One - The Commune
Samies
1319 EARY-SUMMER
Aera was alone, aligned with the world, exactly where she belonged. Everything was familiar and even in the darkest reaches of night, her feet knew where to go. She was home.
     The forest was alive, spilling with music, breathing along with the beat of her heart. A choir of insects hummed while an expanse of white trees danced in the mist, and Aera swirled through them, her long hair billowing. She glanced around to admire the scenery and realized the trees had no leaves at all. White birds lined every branch as far as the eye could see, their feathers shimmering beneath a brilliant moon.
     Aera imagined she also might take flight. She moved her arms like wings and pranced about, pretending to fly, leaving trails in the low mist until it became so dense that she could no longer see her feet. The fog tumbled around itself and formed into faces that surrounded her. Their hollow eye sockets stared Aera down.
     She swatted and slashed at the faces, but more formed instantly. Faces appeared between faces until she was engulfed by a mob dissolving and reforming around her. She thrust at them with increasing force, but it was never enough. They continued to multiply until everything was a blur.
     The air itself compressed and tightened against Aera. Her ears rang and her head throbbed. Just when she thought she could bear no more, the ghastly assemblage of faces opened their mouths and hissed in high-pitched, distorted unison.
     "Go away!" Aera screamed. The birds echoed with a shriek and flew off, shrouding the sky as the trees were laid bare. The bedlam of wings faded into the distance, leaving Aera alone with the howling fog.
     The faces encased her within their collective screech until one pair of foul lips swirled out of synch with the rest. In a ghastly low pitch, it cackled: "Filén na erë lëoryán assë të yo-fayanta i nalanna hyánië votheldë. Në Laimandil ë i namanya, sinë veskento i suínanya më Onórnëan. (*1)"
     She pressed her hands tight against her ears as her body throbbed in pain. "Sinë veskento i suínanya më Onórnëan. Sinë veskento i suínanya më…"
"Wake up, Samies!"
     Aera jolted awake as a loud voice boomed through the room. "Time to do your duty… we are all the same!" The words from her dream rang through her mind. Sinë veskento i suínanya më Onórnëan.
     Footsteps shuffled about and voices crashed through the dormitory. Aera sat up slowly, her head pounding as the nightmare drones continued in her ears. Në Laimandil ë i namanya. Their words were foreign and nonsensical, but the white forest seemed familiar, like home.
     "Move it!" Officer Onus continued yelling. "Let's go, girls. Follow your group!"
     Samies jumped up from their mats, hurrying to ready themselves for their daily routine. Aera was too tired to move, but she had no choice. As she sat up, the scar on her stomach was itchy and everything annoyed her. From her cubby came the various parts of her uniform: her tunic, her pants, her socks. Where were her shoes? She searched frantically, trying to find them with no luck. She needed to hurry. The other girls had already lined up by the door.
     "What's wrong, Eh-ruh? Lost something?"
     It was Doriline, the loudest girl in the group. Laughter exploded around the room and all eyes leered at Aera. Doriline sang out, "Pooooor Eh-ruh! Poor little Eh-ruh…"
     Cheery faces blurred together as Doriline paraded a toothy smile. Sinë veskento i suínanya më Onórnëan. The horrible words mixed with Doriline's shriek, growing louder every second. Aera covered her ears and screamed, "Go! Away!"
     Doriline screeched on and an image of harrowing whiteness burned Aera's eyes. In a flash, she sprang across the room and shoved Doriline, who did nothing to resist. Instead, she dropped to her knees and shrieked, "Ouch! Ouch! Eh-ruh hit me!"
     "Samie Eh-ruh!" Boomed Officer Onus. "Who do you think you are?"
     Aera froze in place, stunned. The room became quiet but for the groan of floorboards beneath Onus as he stomped toward her. He parked his giant belly beside her face and repeated, "Who do you think you are?"
     "Aera," she mumbled.
     Onus stared down at her, waiting impatiently for a different answer. Who am I? Aera asked herself. Uneasily, she admitted, "I… don't know."
     "You're a Samie," Onus spat. "You just lost five points."
     Aera knew she was supposed to do something but didn't know what. Onus pointed at her emphatically, wagging his fat finger. "You're in big trouble. I'll see you outside later."
     The Samies roared with laughter. Aera's heart thudded.
     "Get in line," Onus snapped, a snarl on his face. "You think you're so ghaadi important, we should all wait for you?"
     Aera went to the back of the line, barefoot and shaken. As she joined the ritual walk over the Hill to the Dining Hall, she hung her head so rigidly that all she saw was the grass beneath her. She dug her feet into the dirt, one step after the other, crushing the world as hard as she could.
     The group filed into the Dining Hall and Aera was consumed by a whirl of echoing chatter. Doriline was near the front of the line, surrounded by people, gabbing into the noise. Sinë veskento i suínanya më Onórnëan…
     Aera looked around at the blur of activity, straining to hold herself together. The wait felt eternal, but she finally reached the food and piled some on her tray. She went to the water fountain in the back of the room, filled her mug and looked for a place to sit, but the clamor was so unbearable she couldn't focus enough to find a table. She made her way out the door, carried her meal up the Hill and sat by a large boulder at the top, finally alone.
     Birds sang and the breeze carried the sweet scent of summer. Aera stretched on the grass but still felt anxious. Was Officer Onus going to punish her? Would the other kids watch? He had insisted she was a Samie, but she didn't understand why it mattered. If she were to disappear, nothing would change and no one would care.
     She forced in some breakfast and looked down at the sleeping huts in the field below. Behind them, the lush trees of Southside Forest met the horizon. She wished she could run to it and never return…
     Gong-gong. Gong-gong. The bi-hourly bell clanged in the belltower across the river, and the hand on the giant clock marked the second hour of the day. Nearby, an officer's whistle exploded in shrill thunder. It was time to line up for class.
     Aera took one last look at the forest and the vast, green field before it, lined with four sleeping huts. I want to run away, she thought. Or go back to sleep and find the white forest…
     Reluctantly, she turned around to face the village. Children gathered from every direction. From the top of the Hill, they looked like ants scrambling together, all the same. Aera didn't want to be near them. She groaned and thought, I hate you all.
     She headed down the Hill and found a place at the back of her line. Officer Onus clomped across the Field to join the meal attendant, Officer Luce, who stood at rigid alert before the crowd, preparing his usual written orders. The two huddled together and Aera worried they were talking about her.
     "Samie Eh-ruh! Step up to the front!"
     Aera departed from her line. Samies craned to see while officers surrounded her, their commands piling up.
     "Roughhousing is not permitted outside the Raetsek Field."
     "Violence is against the rules."
     "Do you understand, Samie Eh-ruh?"
     No, Aera thought. That was the wrong answer. Yes. No! Leave me alone. The officers stared down, waiting for a response. Her throat clamped, and her mind blanked.
     "Get back in line," Officer Onus snarled, and dropped Aera's shoes on the ground.
     Aera put them on, trying not to cry. As she made her way to her spot, faces gaped at her, line after line.
     "Five to Six Group, proceed to Art Class!"
     Aera followed her group into the Education Unit, down the hall and up the stairs to the fourth floor. Line leaders bellowed out names, and their voices spun into a whirl…
     "Samie Eh-ruh! Move along!"
     Aera went into the Art Room and looked for a seat. Three instructors moseyed between circular tables, barking orders. Chatter mingled with the scraping of chairs against the floor and dream drones pounded Aera's ears. Sinë veskento i suínanya më Onórnëan. She found a spot and burrowed into her arms until a pencil and paper appeared in front of her.
     "Children! Darse your dirl!"
     "On the count of three, begin drawing a building!"
     "One, two, three!"
     The three instructors shouted on top of each other, and the clamor made Aera dizzy. What did they mean, 'building?' There were so many in Ynas. She glanced around to see what her neighbors were drawing. They were outlining generic rectangular shapes with squares where the windows would be.
     She picked up her pencil, hand shaking, and outlined a rectangle. It was neat, perfect, concise… until the pencil slipped, and she smudged the side. She tried to fix the mistake, but her hands were coated with charcoal and the page was a blur. Në Laimandil ë i namanya…
     Where did those bizarre words come from? Did the phrases have meaning, or were they just random nonsense? The white forest was familiar, but Aera didn't know why. She could not remember white trees anywhere…
     "Samie Eh-ruh! Stop daydreaming."
     Aera snapped to attention and the other kids laughed. Instructor Sarode stared down through crinkly wrinkles and hovered nearby as she addressed the class.
     "Pass your papers to the right!"
     Sarode sounded bored, angry, and tired. She turned her head to see everyone and croaked, "Outline the building with grass and trees!"
     Farris, on Aera's right, reached over to grab her drawing. He observed the mess, then chuckled and snorted. "Looks like poo."
     Aera hissed, "You're gross."
     "At least I have friends."
     A few children laughed at Farris's comeback, and he cackled along. Sarode was right behind him but walked away without a word. The teachers were supposed to stop children from being mean to each other. Aera stared down at her page, trying not to explode.
     The papers continued circling, and Aera drew angry faces on each one until her original piece found its way back to her for the final round. Finally, gongs from the belltower marked the end of Art Class.
     "Don't forget to put your drawings in the bin!" Sarode instructed. "We must conserve our resources, and no drawing is better than another! We are all the same!"
     Aera tore her drawing to shreds and dropped the pieces into the bin beside the door. Next was the Music Room, where noise bounced mercilessly off the brick walls as children pushed and shoved to claim their favorite instruments and find their friends. As Aera took a seat in the back, a female voice commanded, "Quiet."
     Aera had never heard that voice before, let alone one so beautiful. Although the volume was moderate, the tone resonated above the ruckus and silenced everybody. Who was this?
     She inched over to peek through the crowd and found an extraordinary woman seated at the piano. Silver ringlets poured gracefully to the lady's waist, spilling from a decorative band around her forehead. Aera remembered her own luscious mane undulating behind her as she danced in the misty dream forest. She'd never seen anyone with long hair outside of her dreams and was excited that it existed in real life.
     "Good morning, children," she said. "My name is Vaye."
     "Where's Instructor Lilese?" Doriline mumbled nervously.
     Firmly, Vaye replied, "Elsewhere."
     Nobody moved. The room was so quiet, Aera could hear her own breathing.
     Vaye extended her arms with otherworldly grace and pulled back the lid from the keyboard. Her olive gown was sublime and her forehead band enchanting, as it gleamed with tiny yellow gems. Other people had short hair, plain uniforms, and loud voices. Vaye was different.
     She caressed the piano keys and an arpeggio fluttered through the room like butterflies. "Now, sing the Ynas anthem with me," she commanded in a rich, velvet tone. "One two three, one two three…"
     "We… are all… the same!"
     Each voice was disparate from the next and the sound was cacophonous. The dream drones crashed into Aera's mind: Sinë veskento i suínanya më Onórnëan.
     Aera jolted up to be gripped by Vaye's unwavering stare. The room became cold and hollow; Vaye was the only figure visible. As the two watched each other, Vaye's face became ghostly white, and her eyes turned black as coal. Their chilling darkness bore into Aera and transfixed her. Time stopped.
     Vaye held her there for a moment, but then, just as suddenly, her posture relaxed. Her eyes filled with life, the deep mocha blush returned to her cheeks, and she eased into a smile. The room returned to its normal atmosphere. She released Aera from possession, but left her reeling. What had just happened? The world had become sinister, like the fog in her nightmare… yet no one else seemed to notice.
     "Sing softly," Vaye said to the class. "Together, our voices will create ample sound, so there's no need to shout. Listen to each note and let the piano be louder than your voice. Again."
     "We… are all… the same…"
     Vaye's body flowed naturally with the music as her hands coaxed the piano, and Aera's thoughts melted into the rhythm they shaped. The screeches of the other children faded and disappeared. Aera sang with Vaye alone.
     Gong, gong!
     Chatter exploded and Aera remembered she was in class. The commune anthem had transported her to another world. She had always hated that song and could hardly believe how enchanting it was now. When Instructor Lilese played the same song on the same piano, the keys sounded like a murder of crows, but Vaye had transformed that dreadful humdrum to an exquisite symphony.
     Aera realized suddenly that she was the only person left in the room. The Samies had departed, and Vaye was watching her from the doorway. Though her lips remained still, her voice said, Join me at the top of the Hill. Then, she was gone.
     Aera was nonplussed. Somehow, Vaye had projected words into her mind. What did she want with Aera? Was she even real?
     Aera caught up with her classmates in the hallway, then followed her line out to the Field. When the group reached the Dining Hall, she glanced up the Hill and spotted Vaye at the top, silver ringlets shining in the sun.
     "Get inside, Samie."
     It was Officer Padd, the hefty lunch attendant, with beady eyes and a grizzly beard. "On with it," he snorted. "Go find your friends."
     He held open the door and stared down at Aera. She wished he would just go away. As he ushered her inside, she looked once more at the hilltop and hoped Vaye would wait for her.
     She entered the Dining Hall and joined her group, but the line in front of her was endless. If she took too long, Vaye might be gone. She squeezed between people to swipe an apple and darted back toward the exit, where Officer Padd awaited.
     "You again?" He laughed. "You planning on eating?"
     Aera held up the apple and slipped outside. Padd did nothing to stop her, though he called out, "You better not leave the village, Samie!"
     She hurried up the incline toward Vaye, who stood with her back to the village, gazing down at the forest beyond. When Aera finally reached the hilltop, Vaye gave a look of surprise and said, "Oh, hello dear."
     Aera was taken aback. Had she had imagined Vaye's voice in her mind? Vaye did not seem to be expecting her.
     "I will be on my way," Vaye said. "You can come if you like." With that, she floated down the far side of the Hill.
     On her way? Where to? Aera was supposed to stay in the village. Vaye moved onward, her olive dress flowing behind. Her elegance was at once comforting and disconcerting. She belonged in a dream. Why was she there? Aera's thoughts were racing.
     She caught up with Vaye and followed her past the sleeping huts into Southside Forest, where the trees enveloped her in an aroma of maple and pine. It thrilled her to explore the mysterious shadows of the forbidden places she so often fantasized about… but where were they going? It felt like her dream world, but it wasn't, as the trees had leaves and none were white.
     Crickets chirped, leaves crunched, and coos resounded. Aera spotted a small silver bird with a white belly in a tree.
     "That's a mockingbird imitating a hawk," Vaye explained.
     "Ee-u, ee-u," cooed a large, regal bird nearby.
     "Ee-u, ee-u," sang the mockingbird. Its imitation was indistinguishable from the original. Aera glanced at Vaye and the two exchanged a smile.
     As Vaye continued onward, Aera scanned the forest for white trees, but discovered none. She listened to the birdsongs, the scuffles of squirrels and the swoosh of wind against leaves, but Vaye walked so stealthily, her footsteps were inaudible.
     The gurgle of water crept up in the distance and grew louder as they came to an open grove teeming with tall grass and wildflowers. Aera spotted a brook rippling beyond, then noticed a dirt path nearby, leading through the grass to an ancient stone cottage. Behind it, a massive stone wall towered over everything and extended beyond sight in both directions.
     "That's the Fence," Vaye said. "It surrounds the commune."
     Aera knew about the Fence. The instructors claimed it was there to keep everyone safe. She craned to see the top, where iron palisades with knife-like points menaced the sky. The Fence made her feel trapped, not safe.
     She became conscious of Vaye watching her and wondered if she'd done something wrong, but Vaye smiled warmly and continued along the path. The surrounding grass was as tall as Aera and the cottage walls were covered in flowering vines. Despite the somber barrier beyond, the scenery was magical.
     Vaye opened the door, unleashing an aroma of pumpkin spices, and Aera entered a circular stone room featuring an ornate piano. The back of the instrument extended to an elongated curve whose surface displayed a finely chiseled woolly mammoth alongside a spruce tree. Aera stood on tiptoes to peek over the edge of the piano and saw a landscape of strings along with hammers encased in rich green felt.
     "Come, dear," said Vaye. "Sit beside me."
     Vaye sat on one end of a long bench facing the keyboard, which glowed beneath patches of sunlight pouring through oversized windows. Aera hoisted herself up to the empty space beside Vaye, eager to hear her play again. Instead, Vaye placed Aera's hands on the keys.
     Aera tensed. Would Vaye expect her to play this magnificent instrument? Her hands were too small and her feet did not touch the ground. The music would sound wrong, and Vaye might be disappointed.
     "Play along if you like," Vaye said. She slid her bare foot onto a golden pedal and played a soft chord. As its echo waned, her fingers tumbled into a rhythmic swing that undulated like a river. One two three, one two three.
     Aera waited for the one and tapped a key. The note was wrong and embarrassed her. She stared at the piano, but all the keys blended together.
     Vaye stopped playing and turned to Aera. "Your timing was perfect."
     Perfect? Aera blushed. The note was wrong, but the timing was easy.
     "Do you like music?" Vaye asked.
     "Yes," Aera said. Yes. Her own voice was fragile, not lush like Vaye's.
     "Do you want to play alone?"
     Was this a test? No one was allowed to play alone in class, even though playing together ruined the music.
     "Feel free to speak your mind," Vaye said. "Anything you tell me will remain secret."
     My secret is that I hate everyone, Aera thought, but she said nothing. She didn't want to get punished.
     "Your visit will be our secret," Vaye assured her. "Nobody will know you were here."
     Aera was excited that Vaye wanted to share a secret but wondered why. Secrets were forbidden in Ynas.
     "Tell me," Vaye coaxed. "Do you want to play alone?"
     Aera nodded slowly.
     "Wonderful. Do you hear music in your mind? Or in your dreams?"
     Aera worried that if she confessed her nightmares, Vaye might think something was wrong with her. Carefully, she said, "I hear… scary voices." The sound rose delicately from her chest. Nursing each syllable, she added, "I prefer silence."
     "Have you ever found it?"
     Aera tried to remember a moment when everything was silent. It seemed like it should be a common occurrence, yet she was unable to pinpoint a time when it actually happened.
     "Some sounds are quieter than others, but silence doesn't exist," Vaye said. "Try to drown out the scary voices with pleasant sounds, like birdsong or music. I can show you some melodies to think about."
     Vaye took a few minutes to teach Aera how to play a simple melody, then walked away. Aera played slowly at first and increased her speed as she made fewer mistakes. It was boring to hit the same notes, and her hands kept meandering around the keyboard, but she forced herself to return to Vaye's sequence again and again.
     Finally, Vaye came back. "Good work," she said.
     Aera smiled, relieved. She'd played well and Vaye had noticed.
     "Now, play the same melody, starting here," Vaye suggested, and pointed to a note in the bass section. Aera replayed the melody, and the sound was low and rumbly.
     "Play along, beginning on the one," Vaye said. She sat down at Aera's side, played some high notes, and counted aloud, "One two three, one two three."
     Aera rested her forefinger on the first key, listened to the rhythm and, along with the one, hit the note. It was right! She glanced at Vaye, saw she was pleased, and smiled.
     On the next count of one, Aera hit the key harder. She could hardly believe her note was making Vaye's song even richer, but it was. As she ventured to play the rest of the sequence, her force waxed and waned, folding into Vaye's dynamics. The longer they played, the freer Aera felt, even when she fumbled.
     Vaye slowed, dragging out the tempo, then lifted her hands. In her head, Aera counted along with the empty space. One, two, three, one, two, three. Together, they struck a chord.
     "You're attentive to rhythm and dynamics," Vaye said. "You're a natural, and you practiced well."
     Aera was overjoyed. She had made Vaye proud.
     Vaye rested a hand on Aera's shoulder. "I've enjoyed playing with you, dear, but now it's time for baths. Go on, and don't be late!"
     The two exchanged a smile and Aera left. She sprang through the forest, humming the melody she'd been playing, and imagined herself back in her dream, singing it to the birds. Music overcame her until she emerged in the Sleeping Hut Field, where she was accosted by sunlight and a harsh voice screaming, "Samely! Where in Riva's Trees are you going? Get over here, Samie!"
     Aera's heart raced, but her legs froze. Orange and brown clad officers towered overhead, blocking out the nearby forest smells with their overwhelming odor.
     "Where are you coming from? Look at me, kid. Don't you dare ignore the DPD. We're here to keep you safe."
     Aera knew about the Department of Protection through Discipline. The officers said they kept people safe, but they were just bullies. The world was now a sweaty blur of orange and brown.
     "It is forbidden to leave village grounds," said the grating voice. "What's your name?"
     "Samie Aera," she murmured.
     "I know you! You're the same little rebel who started a fight this morning. How old are you, Samie Eh-ruh?"
     Rebel. Aera didn't know what it meant, but she knew it was bad.
     "Come on, Samie. How old are you?"
     Aera glanced at the officer, who looked mean, with yellow hair pulled back too tightly, showing her veiny neck. Trembling, Aera mumbled, "Five."
     "You don't have to whisper, little mouse."
     I'm not a mouse, Aera thought, and stared at her feet.
     "I say we punish her," suggested another officer, who then turned to the yellow-head and asked, "What say you, Linealle?"
     "Send a report to Onus and tell him to subtract ten points from Samie Eh-ruh," Officer Linealle said. She turned to Aera, pointed toward the Hill and ordered, "Go find your friends and don't make any more mistakes. If you leave the village again, you'll deal with me."
     Aera could hardly wait to leave, but she had no friends to find. She burst into tears and ran up the Hill, where she cried by the boulder at the top. When the belltower rang, she descended the opposite hillside and rejoined her group on a line in the Field.
     For the rest of the day, Aera's mind spun, trying to process the most bizarre morning of her life. She could barely concentrate on afternoon tasks, as she was distracted by visions of Vaye and the terrible officers. Dinner dragged by slowly and, at curfew, she struggled to sleep. Rebel, she thought. Find your friends. I hate everyone…
     …except Vaye.

When Aera awakened the next morning, she barely had the energy to join her line. If she was a 'rebel' and nobody liked her, why did they need her to be there? These rules made no sense. She wished she could return to yesterday.
     Breakfast was as boring as ever, and then her group went to History Class. Two teachers greeted the children while Instructor Korov heaved a human-sized book onto an easel. He was short and bald, but his voice was giant. "Good morning, children! Are you ready for your History Lesson? Today we will learn about deadly animals!"
     "Yeah!"
     "Woo!"
     "Animals!"
     Everyone else was excited, but Aera wasn't. Nothing mattered except Vaye. Everything else felt unreal.
     Instructor Korov pointed at the book on the easel and read the title: "The Circus of Kadir." He looked at the class and bellowed, "Repeat after me: The Circus of Kadir!"
     Aera cringed as the children screeched, "The Circus of Kadir!" Their voices were painful, their enthusiasm baffling.
     "Kadir is the closest country to us in distance—six hundred kymen away—but its warlike culture could not be further from ours," Korov declared. "Every season, as we congregate peacefully on Unity Day, Kadir hosts a violent circus. Crowds cheer as people slaughter each other in a giant arena. The winners are rewarded and the losers die!"
     He opened the book to reveal a painting that everyone craned to see. It was a circular field surrounded by ascending stairs that were crowded with rowdy people. The mob of faces reminded Aera of her dream.
     "As part of their festivities, warriors earn rank by capturing dangerous animals! They're displayed in cages and released into the arena where man and beast fight to the death."
     Korov turned the page to a close-up of the field, which contained mangled corpses around two men swinging swords at a smilodon. The Samies gaped in fascination, just like the people portrayed in the circus arena. All the same.
     "Many Kings honor their best hunters and warriors by sending them to compete in Kadir! These are some of the predators depicted by their best artists…"
     Kadir was just like Ynas, crowded with hordes of screaming faces. Was the whole world this way? Aera's pulse raced. I can drown out the voices with music, she mused. Vaye said I could.
     "The argentavis swoops down from the forest and preys onhumans. Especially children…"
     Aera recalled the bass line she'd played in the cottage. She tapped it on her leg.
     "…we are lucky to be protected by the Fence…"
     Aera envisioned herself beside Vaye, softly stroking keys. The hammers in the piano's heart awakened the strings and each sound filled the world. Four hours passed quickly as music lured her to another world. Finally, the gong sounded, releasing her.
     The Dining Hall noise was as grating as usual. Aera decided to take her lunch to her new venue atop the Hill. When she arrived, she sat by the boulder and stared at the forest. Officers loomed in the Sleeping Hut Field, blocking her path to Vaye's cottage. She was stuck in the village as always, bored and alone.
     Birds flew by and disappeared over the horizon. I want to follow them, Aera thought, and squirmed in frustration. Even if she could have flown away, where would she go? Deadly animals, screeching mobs—was that all there was? Aera didn't want to live in this world. She hated everything and everyone… except Vaye.
     There had to be another way to the cottage, and Aera needed to find it. She finished her food quickly, then mounted the boulder to obtain a better view. A gust of wind pushed her hair back and gave her a rush. She searched the treetops, hills, and valleys below, but detected no trace of any wildflower field or cottage. It had to be down there, somewhere…
     The familiar melody of the commune anthem crept up as someone whistled nearby. Aera jumped down from the rock. She spotted a burly figure in uniform and recognized Officer Padd.
     "What's the problem, kid? Where are your friends?" He smirked into his bushy beard and sneered, "Why don't you go make some friends? You think you're different?"
     "N… no," Aera stammered.
     "Alright then. Back to the Dining Hall."
     Aera was supposed to obey but didn't want to. She looked at Padd and stayed exactly where she was.
     "Pehh," Padd snorted, and headed away. Aera smiled, relieved.
     On his way down the Hill, Padd hummed a mutilated, off-key rendition of the commune anthem. Aera filled in the lyrics in her mind: We are all the same. Giving to each other. Living for our "iends. Our sisters and our brothers…
     His voice faded as he disappeared into the Dining Hall. Once he was gone, Aera climbed back onto the boulder and stared in the direction of the cottage. Just as she was losing hope, she spotted iron palisades between some treetops in the distance. That was the Fence! If she followed it, she would come to the cottage… but how could she escape unseen? Her eye landed on Westside Willows, the forest alongside the Field. People walked through those trees to the bathing grove each day, and the cottage was in the opposite direction. That might be the way.
     She ran down the Hill, returned her tray to the Dining Hall and slipped into the woods. The familiar path to the bathing grove wound northward, but Aera headed the other way and was soon surrounded by a legion of trees stretching their arms into every inch of sky. The insect choir was lush and the shadows thick, providing extra cover.
     After triumphing over dense, thorny foliage, Aera reached the Fence and followed it south. Soon, she heard the gurgle of a brook and spotted water running through a pumpkin patch, where two brown cats stared up at her. Together, they jerked away and ran off into the familiar field of wildflowers. She had arrived!
     She headed into the grass and grew increasingly excited as she found the path she'd followed the previous day. Just as she approached the cottage, Vaye opened the door. Had Vaye known Aera was coming? She hadn't been invited…
     It occurred to her suddenly that she might be intruding. She stared at the ground, preparing for Vaye to scold her.
     "How impressive that you found your way back," Vaye mused in a melodious tone. "Please, do come in, and make yourself at home."
     Aera breathed a sigh of relief. Vaye not only welcomed her, but also called her 'impressive.' A smile spread over Aera's face as she headed into the aroma of burning logs. She climbed up on the piano bench and touched a smooth, sunlit key, then pressed it down. The warm sound rumbled in her belly and slowly dissolved.
     She felt a whisk of air and looked up: Vaye had appeared in a chair beside her! Somehow, she walked so quietly that Aera did not hear her approach. Everything about her was different: the stealth with which she moved, the music in her voice, her kindness and graceful manner. Why did she invite Aera to the cottage? Who was she?
     "What is your name, dear?" Vaye asked.
     "Samie Aera," she replied. Air-uh. Her name sounded gentle when she said it. Others butchered it, saying Eh-ruh or Eyer-uh.
     "A powerful name," Vaye said.
Powerful, Aera thought, confused. She wanted to be powerful, but her name sounded wispy, like wind.
     "May I teach you how to harness more power?"
     Aera didn't know what it meant to harness power, but she was curious what Vaye wanted to teach her and nodded.
     Vaye held up her hands and formed a spherical cage with her fingertips pressed together. "Push my top knuckles and make them bend," she instructed.
     Aera pushed each one, but the joints did not budge.
     "I practice keeping my knuckles firm," Vaye explained. "Now, you try."
     Carefully, Aera lined up her fingers and pressed them together. She held them there as hard as she could but, when Vaye pushed on them, they bent inward.
      "Stronger hands will allow you a firmer attack on the piano keys," Vaye said. "You can practice any time."
     Aera watched her hands fold like spiders' legs as she bent and flexed her knuckles. She looked over at Vaye, who smiled and asked, "May I test you, Aera?"
     It pleased Aera that Vaye didn't say 'Samie' before her name as other adults did. She smiled and said, "Yes."
     "Do you remember what I said when I greeted you today?"
     Aera remembered it well. She reviewed the phrase in her mind, then sat up straight to evoke Vaye and chimed, "Impressive that you found your way back."
     After she spoke, Aera replayed her performance mentally. Impressive that you found your way back. The quality of her voice was delicate while Vaye's was rich, but she captured Vaye's calm confidence and slow cadence. Only a mockingbird might have done better.
     She glanced at Vaye, whose brown eyes studied her. Sweetly, Vaye asked, "Can you play the melody you learned yesterday?"
     Aera stared at the keys and tried to remember which notes she had played.
     "Don't worry about mistakes," Vaye said. "Just play until it comes back to you. Your hands will remember."
     As soon as Aera struck a key, she recalled where the song had begun and repositioned her hand. One note at a time, she played the melody, grateful she'd practiced on her thigh in class.
     "Wonderful," Vaye said. "Now, name ten people in your group."
     "Doriline, Farris… Novi…"
     Aera strained to remember more but drew a blank. After spending every day with these people, surely she could remember their names?
     "Describe Doriline's facial features," Vaye offered.
     Aera tried to picture Doriline, but all she saw was mousy curls and teeth. Defeated, she said, "Toothy."
     Vaye watched her for a moment, contemplating something. Aera wished she could sink into the floor.
     "You are gifted," Vaye said. "Perhaps too gifted. I imagine you've had a hard time on the commune."
     Gifted? That made no sense. Aera had failed the test.
     "Our culture is focused on socializing, but listening is undervalued," Vaye explained. "Conversation is encouraged, but people are not taught to consider their words carefully, or to manage the volume and timing of their speech. The stimulation is overwhelming, and someone who is sensitive might feel out of step."
     Tears rushed to Aera's eyes, but she gulped them back. Vaye was right about what Aera felt, and it was hard to believe, as nobody had ever understood her before. People jabbered about nonsense that meant nothing to Aera, and she never had anything to say.
     "Our language reflects this bias," Vaye said. "There's a word for red, and the word pink is used for light red, but there's no specific word for 'low-pitched' or 'high-pitched,' as if it isn't important."
     Aera wondered what Vaye meant by 'important' and asked, "Is it?"
     "Slow, rumbling winds indicate tornados, which destroy everything they pass, and high-pitched winds indicate rainstorms, which water the crops. Is that important?"
     It seemed so. Aera's cheeks flushed as she nodded her head.
     Softly, Vaye said, "The atmosphere reveals much to those who listen."
     Aera was unsure what to say, until she realized Vaye did not need her to speak at all. She wanted her to listen.
     "Your skills are as valuable as any," Vaye concluded. "But your lunch period will end soon, so I'll stop talking and let you play."
     Vaye disappeared under an archway shaped by a stone wall. Nearby hung a giant painting of a teenage girl. Her look was dramatic, with white curls cascading down from a wreath of black flowers and charcoal skin, but the most fascinating feature was a light shining from her forehead. The eyes were so alive, Aera imagined the fantasy girl was watching her also.
     "I play, and you listen," Aera told the girl, and giggled.
     She turned to the piano and recreated the pattern she'd learned the previous afternoon. Her fingers stumbled on each other and she hit the piano harder, crashing against the keys, creating a storm. Treble notes tweeted like birds and the bass roared in a thunderous rage. She laughed loudly, enjoying the chaos, but then remembered Vaye and looked up. The white-haired girl was listening, but Vaye was not around.
      Aera returned to the old melody. It was easier now, and each tone resounded, crisp and vibrant. As her fingers coasted along, she was elated and added new notes. Music created itself…
     "You should head back. Your group will be at the bathing grove soon."
     Aera had forgotten where she was. Had lunch break passed already? The belltower had not yet gonged and there were no clocks or whistles anywhere. She asked, "How do you know the time?"
     Vaye gave Aera a knowing smile and said, "I listen to nature."
     Aera understood that 'listen' was important, but Vaye hadn't answered the question.
     "I hope you return soon and show me your progress," Vaye said. "Your music made my afternoon brighter."
     Aera's cheeks heated. Did Vaye really mean that?
     "You may visit whenever you like, even if I'm not home, but there are two things I must ask of you," Vaye said warmly. "First, if you see my curtains closed upstairs, it means I'm sleeping and should not be disturbed. The second is, you must keep our acquaintance secret. No one may know you come here."
     Aera was thrilled to share a secret with Vaye and to be invited back whenever she wanted. She smiled brightly and chimed, "I promise."
     "Wonderful. Now go on, my dear, or you'll miss baths."
     Aera departed, and fresh air filled her lungs as she admired the garden. Trees shaded much of the cottage, but the approach had a clearing before it, affording sunlight entrance to create the sparkling reflection she'd seen on the piano. The surrounding grass spilled with purple coneflowers and the clearing overflowed with plants and brambles dotted with multicolored berries. Vaye had her very own paradise.
     Though the garden was enchanting, something wasn't right. The other adults lived in groups close to the village, just like the children, but Vaye didn't. This made no sense. Everyone was supposed to be the same.
Over time, Aera's dreamscape transformed as the screeching faces gave way to the orchestras of wind, birds and music. The noise of the village became less invasive as the songs of forests and pianos became routine. Music was the anchor of her day, providing inspiration to endure the drudgery of the commune. When sick, Aera counted on Vaye's medical remedies, determined to circumvent authorities as much as possible.
     Vaye advised Aera to perform her duties obediently, no matter how tiresome, to avoid drawing unwanted attention to herself. The only activity Aera skipped was hair-cutting rituals: she wanted an extravagant mane like Vaye's. People glared and sneered as Aera's locks grew down to her thighs, but Vaye praised her beauty, commended her courage, and taught her to braid it in various ways. Authorities urged her to conform to the standard haircut, but did nothing to enforce their commands. Aera managed to avoid trouble until her ninth year.
     One bright afternoon, Aera joined the Dining Hall lunch line as music poured through her mind. Majestic staccatos tore through thunderous chords, climbing to a crescendo. She envisioned herself on a grand stage, wearing a lavish white dress, her hair gleaming in the sunlight as she sang her heart out. Her presence was dynamic, her voice bold and vibrant…
     "Samely, Codin! I dare you to find the biggest farkus in my group!"
     Doriline shattered Aera's reverie, causing her to snap back to the present. She was in the Dining Hall line, surrounded by chattering faces.
     "You're all farkuses," replied a boy at a nearby table, and his friends chuckled. He was a suave athlete sitting beside a fat boy shoving cake into his face. Several others crowded the nearby benches, attending their every move.
     This was the 11-12 Group's popular crowd, and Doriline was preening to impress them. She flashed her toothy smile, twirled her mousy curls around a finger and said, "I'll give you a hint: she looks like a willow tree, but she acts like a wallflower and never talks. If it wasn't for her hair, no one would notice her at all."
     No one would notice her at all. Aera's face flushed. Doriline was talking about her!
     "She thinks she's different," Doriline howled. "She's a rebel."
     "Rebel, rebel," wailed the fat boy, and the rest joined in. "Rebel, rebel…"
     Go away! Aera wanted to scream. Leave me alone! She rushed at Doriline, who squealed, "Officer Padd! Help!"
     "What's the problem?" Padd bellowed.
     "What's wrong, Dori?" called one of the boys. "You afraid of a skinny little rebel?"
     "Ugh, no! Darse it, fatso!"
     Aera shook with fury and screamed, "I hate you all!"
     She cut the line, took some fruit, ran outside and curled up by her boulder. Tears streamed down as she watched her sandy-blonde mane cascading to the grass, twinkling with gold in the midday sun. Words rang in her ears. Wallflower. Skinny little rebel. No one would notice her at all. She wished she had yelled a cleverer retort, but there was nothing to say. Doriline was right. Aera's hair was different, but she still didn't matter to anyone.
     She emerged from her hair-cave, ate the fruit, and combed her tresses with her fingers. Vaye tended to her mane and called it 'glorious,' 'illustrious,' 'golden as the sun.' That meant more than anything the Samies said. Their ugly, short haircuts spoke for themselves.
     Aera descended the Hill and slid covertly into Westside Willows. As she approached the Fence, rage overcame her.
     "Let me out!" she cried, and slammed her fists against the wall. She punched it until her knuckles were raw.
     The iron palisades at the top were extensive, and the stone wall beneath was almost perfectly flat. She shoved her foot into any wedge she could find but none were deep enough to support her. Climbing would be impossible. The barricade continued in both directions, as far as the eye could see. Aera groaned in frustration. Ynas was a prison.
     She considered the singular exit that everyone knew about—the Gate in the north—which was said to be several hours walk from the village and guarded by a legion of officers. To escape, she would have to evade the DPD, locate the Gate, subvert the guards… then what? Deadly animals? She might not survive a day.
     Defeated, she abandoned the Fence and continued along her usual route to the cottage. Vaye opened the door just as she approached, and two steaming mugs awaited on the table near the fireplace. As usual, she had anticipated Aera's arrival.
     "Ah, your hands!" Vaye said. "I have just the remedy for them."
     Aera looked down: indeed, her skin had been ripped away, and the wounds stung. She hadn't noticed until now.
     With a grin, Vaye disappeared into the kitchen. She returned with a swab of paste on her fingers, which she rubbed over Aera's knuckles. It felt cool and soothing. Aera smiled gingerly and said, "Thanks."
     "Of course, dear."
     Vaye sat in one of the wicker chairs by the fireplace and Aera, the other. Along with them, a cat settled by the fire and watched the flames. Aera hoped Vaye wouldn't ask where her injuries had come from. To her relief, Vaye sipped her tea without a word.
     Rebel, Aera thought. Was that how people saw her? Farris shoved other boys and mouthed off in class, but no one called him 'rebel.' The term described people who broke rules and defied others, but still was more flattering than being a 'wallflower,' unnoticed altogether.
     Vaye was an extreme outsider, living a whole separate life. Aera was supposed to say everyone was the same, but Vaye encouraged her to speak her mind. Her voice trembled, but she forced the words out: "Vaye… why are you… different?"
     There was a short silence. Was Vaye angry? Disappointed? Cautiously, Aera peeked at Vaye and saw… …serenity.
     Vaye was calm, contemplative. "What do you mean, different?"
     Aera was confused. Wasn't it obvious? Vaye lived apart from others, wore her own wardrobe, even spoke differently, using poetic descriptors and avoiding crude clichés. Her vocabulary was mellifluous, and Aera strove to adopt it as her own.
     "All the adults wear the same things," Aera said, "and go to the same places together… but you don't."
     There was a short silence. Vaye stirred some pine needles in a mug on the table, placed them on a plate and sipped the drink. Logs moved in the fireplace beside them and, as sparks flew, the cat sat up with ears alert.
     Aera feared she'd made a mistake. Was it wrong to call Vaye different? Was it insulting? She removed the needles from her own mug and took a sip, enjoying its bitter heat. Water was the only beverage available in the village, but Vaye always treated Aera to exotic teas.
     After a long pause, Vaye replaced her mug on the table and turned to Aera. "What makes someone different from someone else?"
     Aera opened her mouth to respond, then closed it.
     "Is it the clothes we wear? The tea we drink? The length of our hair?" Vaye asked with a knowing smile.
     Aera looked down at her hair, feeling self-conscious. She wondered what Vaye was implying.
     "Everyone is unique," Vaye said gently. "In this, we are the same."
     That wasn't what Aera meant. Surely, Vaye understood the blatant difference between herself and the Samies.
     Vaye collected their empty mugs and disappeared into the kitchen. Aera's eye landed on the white-haired girl in the painting, with her bold, black stare and forehead-light. You're a rebel, Aera thought. We are the same. She touched her own forehead, feeling around for any evidence of an opening, but found none.

Want to read more?
Click below to buy This Boundary Will Not Bind Us: Night Gem, Book 1 by Erica Xenne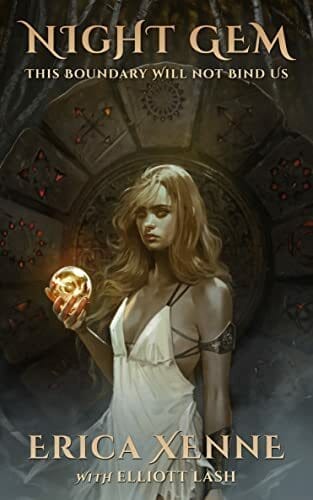 Thanks for reading! If you're enjoying the newsletter, share it with a friend who would enjoy it too.
See you again next Monday when we open a new chapter.