The Burning by Patrick Jean-Paul
Genre: Dystopian Fiction
What is the 1st Chapter Newsletter?
We send the first chapter of a different book straight to your inbox every week, for free.
This week's chapter:
Title: The Burning - Book 1 of The Burning Trilogy
Author: Patrick Jean-Paul
Genre: Dystopian Fiction
Chapter 1
     The deafening ring in my ears is the first thing I notice when I come to. The tone drowns out the sounds of the gunfire all around me; it sounds like a sharper version of the emergency broadcast tone from television. I lie there, trying to regain my composure, but my system is in shock. I feel pain shooting throughout my body. It feels like the weird pain you get when you fall asleep on your arm, and then, when you wake up, your arm just throbs. It must have been a rocket-propelled grenade that hit us!
"Aw!"
That hurts, I think. I try turning to my side, but I cannot move, so I lie down flat on my back. I look up at the sky, and the beautiful blue that I remembered is all but gone. This haze is everywhere. I cannot even remember the last time I saw green on the trees or green grass. Everything I took for granted is now gone.
down the hallway to my parent's bedroom. I open the door, and the heat is unbearable in their room. I walk to the nightstand and pick up the MP3 player. I press the power button, but nothing happens. It is at this point that I realize we are in serious trouble. I begin to smell smoke, and I walk over to the window and peep out of the shades. I see some homes on fire in the neighborhood. This is bad is the only thought running through my mind.
"Think, think!" I mumble.
"Lance!" calls Cassie. "Where are you?"
"In here."
She walks into the room. "What are you doing?"
I peep through the shades and point out the window. "Look!"
"Oh my God!" she exclaims. "What's going on?"
"Whatever it is, it's not good."
"What are we going to do?"
I look at the towels hanging in my parent's bathroom. "Come on, I have an idea."
We walk to the master bath. I turn on the water in the sink, and a stream of water comes out and then stops.
"Your brother was right. There is no water."
"What are you trying to do?"
"Hold on."
I open the toilet's water tank, and I dip the towels in the tank to soak them.
"Here, take these."
I pass her the towels, and she takes them as I soak each one.
"These should keep us cool," I continue.
I close the tank, and we go back downstairs.
"Don't flush the toilets!" I shout.
"Why?" asks Jeremy.
"Because that's the only water we have."
"Jeremy put the rest of the ice cream back. We may need it later," says Cassie.
We go into the kitchen to the refrigerator. I open the freezer, and a blast of cold air hits me. I think about putting the water in the freezer to keep it cool. I walk over to the pot rack and grab one small and two large pots.
"What are you doing?" asks Cassie,
"Come with me."
We go into the bathroom, and I take the cover off the water tank. I take the smaller pot, and I use it to fill the larger pots with water from the tank.
"We'll put these in the refrigerator to keep them cool."
"Great idea! Let me do the other bathroom."
She runs downstairs to get some more pots. I come out to the main area.
"Guys, don't run unless you have to!" I shout. "The more we run, the more dehydrated we will get, and this water has to last."
We take the water and go back downstairs. We place the pots in the refrigerator. Nate comes out of the pantry holding two six-packs of Gatorade.
"I found these in the pantry."
"Great! My mom must've brought them."
Jeremy walks into the kitchen. "Oooooh, let me have one of those."
"No! We're going to need that for later!" says Cassie.
"How many do you have there?" I ask.
"Twelve," Nate replies.
I take one of the six-packs from Nate, and I hand the Gatorade out to everyone. "Here, we each can have one right now," I say. "But don't drink the whole thing. We might need it for later."
The rising temperature has made us very thirsty, and we open the Gatorade bottles and drink them. Jeremy quickly guzzles his down.
"Don't drink all of it, stupid!" screeches Cassie. She lightly slaps him on the back of the neck.
"Stop that!" he yells.
"We're all thirsty, but we have to conserve whatever we have to drink," she tells him, "because we don't know how long this heat will last."
It must have been thirty minutes or so since the heat started. It has drained the energy out of us, and we are exhausted. Cassie seems afraid, but we are all unsure about what to do or how to interpret what is happening. I want the heat to stop, but it keeps getting hotter by the minute. My father wanted me to quit the football team because he feared that I would die of heat exhaustion on the field, but how ironic would it be if the captain of the football team died at home on his sofa of heat exhaustion. Nate is looking at me as if I know what to do, but this is not a football game, and he is not my running back. The captain of the football team is out of plays, just like everyone else, and I have no idea what to do. Right now, I wish I was Cassie's Sir Lancelot. He would probably take charge and come up with a game plan.
I take the last sip of the Gatorade from my bottle and set it down. My mind is racing, but I cannot figure out anything else that we can do to help us cool down. The water and the towel idea was a fluke. I do not know how I even thought of it.
"I hear more rumblings," says Cassie.
The ground underneath us shakes.
"It must be another earthquake," she continues.
Cassie takes off running towards the door, with Nate and Jeremy in tow.
"Stop, don't open the door," I say. "It's a small earthquake, and it is too hot outside to be outdoors."
"What the heck is going on?" asks Cassie.
"We're not supposed to have earthquakes," I say. "We all need to get in between the doorposts."
The house shakes harder than the last time, which makes us more afraid. You can tell we're scared by the way we're just gazing at each other with deer-in-the-headlight looks. My heart is racing, and I look around, wondering when the shaking will stop. It feels like the ground has been shaking forever, but the earthquake finally ends. I notice how tightly I'm gripping the doorknob, and I release it. No one says a word; we are all frightened at the prospect that it is not over and that another earthquake might hit.
"Is everyone ok?" I ask. I look around, and they all nod, yes.
"I think everyone is fine," says Cassie.
"What the hell was that?" asks Nate.
"I think it was another earthquake," I reply.
"We're not supposed to have earthquakes in Virginia, man."
"It is getting hotter. We're going to need a lot of fluids to stay cool," I say. "Jeremy, help Cassie fill up the pots in the downstairs bathroom."
"Sorry, man," he says. "I already flushed that toilet."
"Nate, give me a hand getting the pot into the freezer."
Nate takes the pots into the kitchen. He opens the freezer and tosses the meat from inside onto the floor.
"Wait, don't do that."
"We need the space."
"It'll go bad if we leave it out. There's no telling if we'll be able to get more food soon."
I stand at the refrigerator for a moment, thinking about how we're going to make everything fit. Then it dawns on me.
"Leave the meat in the freezer. We can move the condiments out of the fridge and make room for the last pot."
I open the refrigerator and quickly dump the non-essentials out, making room for the pots. As I put the pots into the fridge, Cassie and Jeremy appear with another pot.
"Give it here quickly," I say.
Jeremy hands me the pot, and I place it into the refrigerator, close the door, and lean against it.
We make our way back to the front, nursing our Gatorades as we go. Nate is still trying to get his smartphone working  again. He stares aimlessly at the phone as he continuously taps the screen.
"That's not going to make it work," says Cassie.
"You never know until you try," he responds. "Why aren't the phones working? I charged my battery before I came over."
"Maybe it was an EMP," says Jeremy.
"EMP?"
"You know, an electromagnetic pulse that messes up technology, like the EMP devices in Call of Duty. We use them to blind the enemy. It stops everything from working, cars, phones, video games."
"You're such a geek," says Cassie.
I sit there, wondering, What is happening. What is going on outside? What is happening to our friends and other people? I wonder if our parents are ok? Then Cassie interrupts my thoughts.
"Do you think our parents are ok at work?"
She must have been reading my mind.
"Do you think this is only happening here or all over the world?" she continues.
She goes into a panic. "My mother and my father are at work in the city, and my sister's in college. Are they ok? Oh, my God."
Jeremy walks over and sits next to Cassie. "Mom and Dad are going to be fine, and Leslie's fine too."
"I'm scared."
I look up at Cassie. I stand up to walk to her, but my head starts spinning, and I get dizzy again. I sit down and sigh.
"Are you ok?" asks Nate.
"I don't know, man. I'm feeling dizzy again."
My dizziness seems to take everyone's mind off what is going on outside momentarily, and they turn their attention to me. Cassie picks up the Ziploc that had the ice. I reach for the bag from her, but the ice is all melted, and the water inside has heated up. It is now a heating pad instead of an ice pack. We are all in shock from the event, but we still do not understand the gravity of the situation. I am still worried about my parents. We are all worried about our parents, our families, our friends. We have no news, and we do not know what is happening out there. Nothing works, no cell phones, no radio, no electricity, and no water. The air is hot. It's hotter than anything I've ever felt. If there is a hell, I would imagine that this is what it would feel like. I am not sure how hot it is; the thermostats are not working. Wait! I think. Dad has a thermometer in his turkey fryer. Maybe I can use that to tell me how hot the temperature is.
"Be right back."
I get up and walk to the basement door.
"Where are you going, bro?" asks Nate.
"To the basement. My dad's turkey fryer has a thermostat. Maybe it can tell us how hot it is."
"Well, let us know what you find."
I do not go into the basement very often. When I was a kid, I used to think that it was where the boogie man lived. I know it's silly, but I stayed as far away from it as possible when I was younger. My parents mostly use it to store our junk. I open the door to the basement, and a blast of cool air rushes past me. The air itself is not that cool, but compared to the air we've been sitting in, it feels like the North Pole to me. The air cools the sweat on my face and cools me down. It even cools the sweaty t-shirt that is clinging to my body. Oh, my God. I slam the door shut, and I go back to the living room. I have to get everyone into the basement if we're going to survive this heat.
"Hey, guys," I shout, "the basement is cooler than up here. We should probably wait it out down there!"
I turn to go back to the basement door, and they get up and follow me. I open the door, and we go downstairs. The basement is dark, and all of my childhood fears of it resurface. But I'm grown now, so I just smile and keep going.
"This feels so much better," exclaims Cassie.
"You ain't lying," responds Nate.
Jeremy is the last one in, and he closes the door behind him. The basement looks almost like a junkyard. Our things are  all over the place, piled up in mounds, one next to the other. There is a small section of the basement that is without any of our junk. We go straight to it and sit down. We all lean against the wall and slide our bodies down to the floor. We sit there silently, not a word coming out of our mouths. I soon realize that we left our drinks upstairs.
"We left the drinks upstairs," I say. "We will have to go back up and get them later."
Cassie turns to me. "What are we going to do?"
"We are here. It's not as hot down here as it is upstairs," I tell her. "With the water we have upstairs, we will be fine. I promise."
I don't know why I made the promise because I can't guarantee that we will be ok – or even if we will survive, for that matter. It seems appropriate, though, for me to have said it to reassure her. We always read about these tough kids in books, and now I realize that they were only strong because they were born into the situation and had faced a lifetime of hardship. Our situation is all-new for us. It's the biggest challenge of our lives so far, and I don't blame Cassie for being concerned.
I place my head between my knees, and I turn my head slightly and look at our things. There is a box that my dad uses to keep his mementos sitting on one of the piles, inside a plastic container. I get up and walk to the pile. I stand in front of it and gaze at the box for a moment. The thought of never seeing my parents again is now front and center in my mind. I need to shake these thoughts and think of something else. I open the plastic container and slowly reach for the  box, and I lift it closer to me with the hopes of keeping my mind occupied. I blow off the tiny bit of dust that's settled on top of the box, and I open it. Inside is a photo of my grandparents and my dad. I pick up the stack of photos and lay the box back on the pile. I look through the pictures, one after another, flipping through them until I get to my parents' wedding picture. I stop to examine it, moving it closer to me. I rub my mother's face with my thumb. As I rub the picture, I happen to see a gold wristband in the box, peeping from underneath some papers. I move the papers aside to expose a watch.
"It's Grandad's watch," I whisper.
I pick up the watch and rub the surface of it with my thumb. To my surprise, the second hand is moving, and the time seems to be correct. The watch is working. It makes sense since it's not an electric watch. It is a mechanical watch that does not use batteries.
I place the watch on my wrist and snap the golden band closed. I turn my wrist back and forth, looking at the watch. I look around and see the turkey fryer, which is illuminated by the light that is peering through the small window on the opposite side of the basement. I walk to the turkey fryer, and I pick up the thermometer. I look at the temperature, and it reads 117 degrees. This explains why it feels so hot. I lift up my head and look around for anything we can use. There is a lot of junk down here, and I wonder if any of it might be useful in our situation.
I go through the junk, and I see a flashlight. I pick it up and turn it on, but nothing happens. I turn it off and on a few  more times, but it does not work. I open the flashlight case to look at the batteries. I turn it on again after placing the batteries back in, and it still does not work. I put down the flashlight and begin lifting the dust covers off the piles. I find a bunch of old books on physics, which surprises me because both of my parents are biologists. I trip over an old Apple Macintosh computer that is next to the books and fall on a pile of clothes that are neatly packed in vacuum-sealed bags. I get up and pull the cover off the third pile, and to my surprise, there are two stacks of water and Gatorade bottles, along with a variety of snacks.
"So, this is where she keeps them," I mumble. I grab a case of water and quickly rip off the plastic wrapper. I take an armful of water bottles and rush over to the rest of the group.
"Guys, look what I found."
Nate gets up, walks to me, and takes a few bottles out of my hands. "Great find, man!"
Nate and I distribute the water to everyone.
"Drink up! We have a lot more over there."
"We have a lot at my house, too," says Cassie. "Too bad, we can't go outside."
"I don't think we can survive out there. It is twice as hot out there as it is in here," says Nate.
"Eventually, it will get hotter inside than out there, and we will have to leave," I say. 
It appears as if we are losing daylight. I look at the watch, and it is only four o'clock. I wonder why it is getting dark so early in the middle of summer.
I notice that the smell of smoke is stronger than earlier and cannot help but wonder if the entire city is burning. I look at the small window and notice there is an orange glow mixed with the smoke. The smoke is everywhere. I have never seen the sky like this before. It is the middle of summer, and it almost looks like twilight at four in the afternoon. This cannot be good. I walk to the window and place a crate in front of it to stand on and look outside. As I'm standing there, gazing outside, I hear another rumbling. There is a sense that it is the end of the world, a sense that we are all going to die.
"Another one!" exclaims Cassie.
"Get under this table!" I shout.
I jump off the crate, and we get under the table and huddle together. The shaking is light, but it scares us just the same.
"Is the whole world burning?" asks Jeremy. "What if Mom and Dad never come home?"
"Don't say that," replies Cassie. "Mom and Dad are going to be fine. As soon as it is safe to go outside, they'll be home. You'll see."
"They will all come home," I say.
The rumbling is short this time, but we do not move from underneath the table. I go back to the window and gaze out. It is eerie outside, and the sky looks ominous. We sit there  and talk until it gets dark outside. I look at my grandad's watch, and it says nine fifty-two p.m.
We have been sitting here quietly for hours because we are too weak to keep a conversation going. Every time we try to talk, our mouths get dry. It is making it very difficult to carry on a conversation, so we sit, drinking as much water as we can, while we stare at each other. We are all worried about our families and our friends. We do not know what caused this besides what we learned from the quick news feed that we saw before the television went out. The world is burning, and we are terrified. Even though we have each other, we are terrified. We are worried and scared.
Want to read more?
Click below to buy The Burning by Patrick Jean-Paul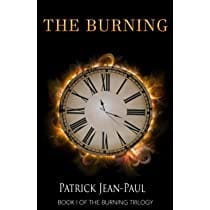 Thanks for reading! If you're enjoying the newsletter, share it with a friend who would enjoy it too.
See you again next Monday when we open a new chapter.