The Secret Society of Salzburg by Renee Ryan
Genre: Historical Fiction
What is the 1st Chapter Newsletter?
We send the first chapter of a different book straight to your inbox every week, for free.
This week's chapter:
Title: The Secret Society of Salzburg
Author: Renee Ryan
Genre: Historical Ficton
Chapter 1
Elsa
August 1943, Austria, Salzburg Festival
The black Mercedes-Benz approached the Felsenreitschule theater at a steady pace, giving the woman inside time to settle her nerves before stepping into the heavy August heat. It had been an exhausting two weeks for Elsa Mayer-Braun. The endless rehearsals, the physical demands on her body, the excessive stress to her vocal cords. Yet none of that compared to the torment unfurling in her own home, made worse by the escalating arguments.
     She would not think about Wilhelm now. Nor would she dwell on the terrible things she suspected of the man she'd loved enough to marry. The pain was too great, the grief too real. And so Elsa sat very still on the worn leather seat, inhaling the soft floral scent of her perfume as it mixed with the acrid smell of cigarette smoke left behind by the previous occupant. She would not think of him, either, or the way he'd insisted she accept the loan of his state-sponsored car. The generous offer, she was told with a hard clasp to her arm, was one she would not refuse.
     A chill crept along her spine at the memory of her husband's cold, emotionless glare as she spoke this words in front of his powerful friend. The glacial steel of Wilhelm's eyes had been that of a stranger. The silent demand more threat than warning.
     If only Hattie were with her, sharing this moment, speaking of opera and art and very little else, certainly nothing of the secret they shared. Perhaps then Elsa would feel less afraid, and this terrible sense of foreboding would vanish.
     But Hattie wasn't here. She'd been detained in London. Elsa was on her own.
     She stared straight ahead, speaking not a word, thinking not a thought beyond what she must do tonight on the stage. This would be her final opportunity to slip behind the mask of Donna Anna in Mozart's Don Giovanni. Elsa's prior performances had captured high praise from the critics. Unprecedented, they wrote. Matchless. Without rival. Oh, yes. She had much to be grateful for professionally, if not personally, where the dual life she'd chosen required her to wear a different sort of mask, with much higher stakes.
     The Mercedes rolled to a stop.
     Elsa flexed her fingers, lacing them together to make sure her gloves fitted snugly, the way she liked them best. They were new, a gift from her husband. Wilhelm had smiled when he'd presented them as a peace offering last week after telling her he would not be conducting Don Giovanni as planned. Pristine and snowy white, the gloves were the color of a shroud. She checked the fit again.
     Biting back a sigh, she chanced a glance out the side window. A crowd had gathered along the curb, a river of faces swollen in anticipation. It seemed all of Salzburg had come to witness her final performance. Their voices tangled unnaturally, blending, until all Elsa could hear from inside her cocoon was a high-pitched buzz, much like the sound of bees in their hive. "El-sa," they chanted. "El-sa, El-sa, El-sa."
     Something in their adoration was different tonight. Or perhaps it was Elsa who was different, making her feel like a guest in her own life. The throng pressed in closer, shoving at one another, throwing elbows, placing palms on the hood of the car, the roof, even the window that separated Elsa from their frenzy.
     The driver—she didn't know his name—swiveled around in his seat. He wore a military uniform: SS, the hated enemy. The look in his eyes was not easy to read beneath the shadow cast by the bill of his hat. "Should I circle the block?"
     It was too late. Elsa had been positively identified. Precious little could be done now but to accept her fate. "Retreat will only stir them up more."
     "Then, I will drop you closer to the stage door."
     She shook her head. "No, I'll exit here. I—"
     The Mercedes began to rock. Fear skittered up Elsa's throat. She swallowed it back and forced herself to breathe. Perhaps she should issue the order for him to take a spin around the block after all. Impossible now. The choice was no longer hers to make.
     Her fans continued closing in around the car, chanting her name, the earlier buzz of their voices sounding more like a roar. They wanted only one thing. A glimpse of the woman who carried the label of Hitler's favorite opera singer.
     Elsa knew what was expected of her. She would give the masses what they wanted. She would smile and sign autographs and speak to a select few. No one would ever suspect how she used her elevated status within the Third Reich. Or that her notoriety had become both shield and sword against Nazi Germany's crimes against humanity.
     She'd stalled long enough.
     Scooting forward, she breathed slowly in, out. Then, with a flick of her wrist and a bold push, she exited the automobile in a rush. She'd moved quickly, and for a split second, the crowd froze. Elsa hardly noticed their shocked silence. Or the way the driver left his place behind the wheel to stand beside her in silent solidarity. Her attention was riveted on the long, narrow street. On the buildings themselves and the sea of Nazi flags waving their allegiance to a monster and his deadly regime.
     Sorrow came fast and hard. Her beloved Salzburg had been infested with vipers, and stripped of her beauty. Her independence. Her dignity. With too many of her people treated much, much worse. People who relied on Elsa to be braver than she knew herself capable. Until a fortuitous meeting with a humble British civil servant, now her friend, ally and accomplice, a woman who had reached her own notoriety and fame with a very small push from Elsa.
     The next ten minutes went by in a blur of flashing bulbs, garbled words of praise and more chanting of her name. No human deserved such earthly acclaim.
     Despite the sticky, suffocating heat, Elsa shivered, fumbling her way through the riot of fans and journalists. Until finally, at last, she was inside the building, cloaked in shadow and the molten gold and orange light that played across the centuries-old stone walls. Only in Salzburg could an ancient quarry become the home of the greatest music festival in Europe. With its portico of arches on three tiers hewn into the rock, the former riding school for an archbishop's mounted soldiers was like no other theater in the world.
     Elsa entered her dressing room and began the task of transforming herself into a woman bent on revenge because of a greedy man's selfish desires. She knew this character down to her bones. She was this woman. She finished her warm-up exercises and stepped into her costume, but there was still no sign of Wilhelm. She hadn't expected him to come, but she had hoped. So be it. She would face this final performance on her own, with no words of encouragement from her husband. No Toi, toi, toi—opera's equivalent of Good luck. Her punishment, she supposed, for refusing to believe his lies.
     Of course, she had her own lies to protect.
     Head high, she made her way to the stage, moving like a wraith through the darkened corridors, taking a position in the wings, concealed in shadow before she took her cue and rushed onto the stage. The mezzo-soprano singing Donna Elvira, a role out of her range, met Elsa's gaze. The bitter dislike was unmistakable, raw and blatant. Frieda blamed Elsa for many offenses. Her anger partly valid, mostly not.
     With great success came enemies, some quite intimate. Wilhelm had taught her that.
     The conductor took his place in front of the orchestra. He lifted his baton, and the overture began with a thundering D minor cadence. A short misterioso sequence followed, which led into a light-hearted D major allegro. The music changed, the singing commenced, and then it was Elsa's turn to hit her cue. She pursued the masked Don Giovanni onto the stage, clutching at his arm. She sang her opening notes. So caught up in Donna Anna's desperation, she didn't realize that the brilliant baritone playing Don Giovanni had gone unnaturally still and that she was singing alone.
     She searched his face. Had he forgotten the words? It happened sometimes—rarely, but yes, it happened. She expected him to find his place in the melody, silently willing him to do so, right up to the moment she understood the expression on his face was one of terror.
     Next came shouting in German, a sound that had no place in this opera. At the far end of the center aisle, soldiers stormed the auditorium. She recognized the uniforms. How could she not? These men were SS, an elite guard assigned to serve the secret police. Gestapo.
     A rushing filled Elsa's ears as she watched the endless stream of soldiers marching into the building, perfectly matched in height, stature and soulless stare, like an army of ants. One by one, they broke off from the group in a precise, rhythmic tempo. Some took up position along the perimeter of the auditorium. Others lined up in the aisles and around the orchestra pit, cornering both patrons and musicians alike.
     Elsa had witnessed this spectacle in other German cities, other auditoriums. She knew what came next. An arrest. She was not the only one to arrive at this conclusion. Gasps and murmurs followed. Tension, thick enough to cut with a blade, vibrated in the air.
     Another group of hard-eyed men entered the building, three in total, wearing head-to-toe black. Their collars bore the SS runes, and the red armbands around their left biceps carried the Nazi swastika. The man leading the way caught her gaze. She knew him by sight and reputation. Kriminaldirektor Gerhardt Vogt. His face wore something she'd seen in others draped in the same uniform. Fanaticism. Bigotry. Hatred.
     A dark premonition filled her mind as she watched the fiend take the stage, stopping only after he stood before her. Up close, his eyes were bluer, colder than she'd first thought, and he smelled of death. The scent made her frantic. She wanted to run, to vanish from the stage. You're panicking, she thought and lifted her chin, saying not a word. If nothing else, she would force the swine to speak first.
     "Elsa Mayer-Braun." His voice held much distaste, as if the mere effort of stating her name was a personal insult. "Du bist verhaft."
     You are under arrest, spoken with a Bavarian accent. The noise in her ears was deafening, an explosion of chaos and thought turned to sound. She choked for a moment, then stammered, "Wh-what is my crime?"
     He closed the small space between them. "Treason against the Third Reich."
Want to read more?
Click here to buy The Secret Society of Salzburg by Renee Ryan.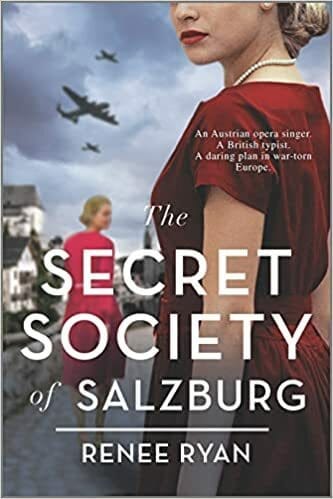 Thanks for reading! If you're enjoying the newsletter, share it with a friend who would enjoy it too.
See you again next Monday when we open a new chapter.